Some of you are well aware of the second release for Sale-A-Bration but for those that aren't here's what they look like.
The first uses Reverse Words, which gives a water colour wash background and an Embossed like image at the front. Several steps in creating beautiful cards all made in one stamp.
Make a Medallion is the next one and already there are some lovely cards popping up on Pinterest.
Lastly we have the glitter paper. Which I have to say is much prettier in real life than on this image. The pink is softer as are the greens and VERY shiny. Perfect for that touch of glimmer luxury. Remember don't make the mistake I did, and have a frustrating time,  but lay the die on the back of the paper which gets the best results.
That means that now you have a  larger choice, for every $90.00 order you can have one  of 15 products to choose from for FREE.  Shop HERE!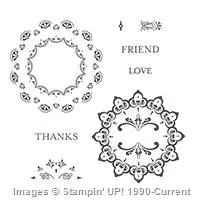 So get in quick as the offers only last till the 31st March 2017.
Happy Crafting People!
Enjoy today.
Naomi