Hi There, Pleased you have returned to secure your Treat for this month. As discussed in my last post we are bringing you two great techniques, Emboss Resist and Double Embossing.
Have you seen those lovely floral cards that have an opaque white soft look about them? Well odds on they are made with the Emboss Resist technique so purchase you copy and you can master this easily. As well you get two methods of double embossing, one using two folders direct onto the card stock and one where you can create a frame. Now for $4.00 that's what I call value.
You also get:
·    List of supplies required to complete 4 individual cards
·    Measurements for each card – Metric & Imperial
·    Step-by-step instructions required for each card with images
·    Technique Tutorial with step-by-step instructions
·    Cover sheet for your Technique Book
·    Technique Index for you to place in the front of your book & for you to update
This month we have used the Gift from the Garden Stamp set, see those cut pots in the image, aren't they sweet and there's gloves and gumboots too in the set. So much fun to use. If you don't have the stamp sets and want to do exactly as we have. (After all, time is precious and why reinvent the wheel when we have done all the work for you) you can purchase it from here.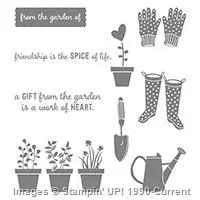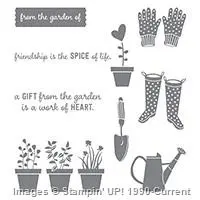 Bye for now. Come back soon.